Directors Welcome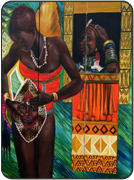 Named in honor of the celebrated abolitionist and women's rights activist, the Sojourner Truth Multicultural Arts Museum is dedicated to bringing Asian, African, Latino and Native American art to the general public. In addition to displaying art from around the world, the museum also features an extensive list of workshops, classes and special events designed to educate the community about their collective culture.
The centerpiece in our efforts to provide greater access and exposure to art is seen in the hallways of the Museum.  More than 2,000 linear feet are covered with dynamic murals depicting the culture and history of our diverse people:  African American, Mexican, Latino, Asian, Alaskan, Pacific Islander, Eastern, and Native American.  In Sankofa Hall, the African American journey is illustrated from Africa to the New World, from bondage to freedom, to accomplishment and excellence.  Pioneers, scientists, and leaders in all professions throughout the ages are represented here, as well as sports figures and entertainers.  Well-known California and Sacramento figures from the past up to today are portrayed.  Guided tours are available to enrich the mural experience as visitors encounter history and art in this exciting and informative venue.
 Supporting local artists enhances our efforts to increase access to art in the community.  Frequent varied or theme-oriented art installations and exhibitions bring the work of local artists into the Center.  They have included Women as Healers Art Exhibition, Cinco de Mayo Celebration:  Frieda on Paper, The Legacy of Sojourner Truth, Words of Truth and Our Heritage Speaks Exhibit. 
Our Multicultural Festivals are well-known for their diversity of visual and performing arts.  All cultures are represented.  This year marked the 7th anniversary of the SOJO Art Festival.  A variety of hands-on activities are very popular with the many children who attend.  They delight in working with clay sculpture, batik fabric dying, painting, and so on; and it is not unusual that a child encounters his or her first exposure to an artistic medium here. 
Additionally the festival  highlight Sojo's art education programs by showcasing renown visual and performing arts of youth that have previously attended workshops throughout the year. The festival features live music, dramatic skits, poetry, a talent show, film documentaries, educational workshops, mural tours, visual art exhibitions, collections, vendor ( food, health, education), and paint-outs, with art  demonstrations.
Please enjoy your visit to our web site, and I hope to see you in person at Sojo soon!

Shonna McDaniels
Museum Director
Shonna McDaniels




Museum Director

Shonna has spent over 25 years sharing her love of arts, passion for culture and care for her community. Shonna started an art development center for youth and young artists in the Sacramento area. in the last two decades she has collaborated with many local artists and directed numerous students in the creation of public murals throughout the Sacramento region.

Her most recent project has been the birth of the Sojourner Truth Multicultural Art Museum. The museum offers a rich diversity of multicultural visual arts and programming which attracts artists and visitors from the Northern California and beyond.


Among her long list of awards and honors, Shonna has recently been recognized as a "Hero of Human Services" by the Sacramento County Board of Supervisors for "25 years of using art to teach life skills to kids and youth."