The Sojourner Truth Art Development Center
Our goal for the past 14 years has been to create a structured learning environment for children, youth and families using art education as a medium to teach fundamental life skills and social values. Through the creative arts, our vision is to provide a healthy learning environment where people from diverse backgrounds can learn and grow harmoniously. Sojourner Truth Development Center sponsors year-round educational programs and projects for all ages. 
Art and Health Programs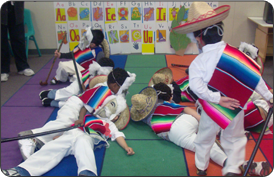 Recognizing that community health is a prerequisite to any kind of development, and we have taken steps to bring health classes and promotions into our repertoire of programs.   For example, our Wellness Program "Hip Hop to Wellness," is a Kaiser-sponsored program that addresses childhood obesity by involving the family in making healthy changes in diet and encouraging physical activities.  Activities such as the Oak Park Kids Run and our own Hip-Hop, African Dance and Salsa workshops make exercising fun and exciting. 
Character and emotional development are vital goals in our mission.  To that end, each year we sponsor community teens in several youth conferences such as the African American SCUSD Youth Empowerment Conference.  Workshops offered at our Center have included the Girls' Power Hour to enhance young girls' self esteem and Saving Our Sons for 6 to 12 year-old boys to learn how to make responsible choices.
SOJO Artscape, a delinquency prevention program utilizing mural art.
SOJO Summer Camp, 8 weeks of art instruction and free lunches for children and youth 6-18 years old.
Circle of Peace, Diversity and Culture, empowering youth and families to create public art and community gardens in their own communities.
Hands-On Art, a series of classes in visual art, graphic design, folk art, and music.
Mama & Me Scribble Scrabble, a structured program for parents with children 5 and under.
Out of Box Field Trips, which connect youth with the outdoors, with art in the community, and with agency-sponsored youth conferences and events.
Still I Rise Youth Development, encourages teens to consider the arts as a career path and offers job information and aid, mentoring, academic tutoring leadership development, internships and art scholarships. Young men and women prepare to be leaders
Sojourner HIV/AIDS Awareness Education, provides education on HIV awareness
In Pursuit of Truth is a violence prevention program that provides stress awareness workshops for youth and the entire family utilizing Art Therapy
Hip Hop 2 Wellness, a family wellness program.
Saving Our Sons, a program for 6 to 12 year old boys to learn how to make responsible choices.
Mural Jams Saturday Workshops
Community Outreach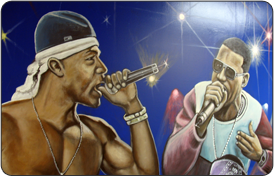 Investing in our community through our outreach programs, we strive to engage people of all ages and ability with accessible resources so they can participate in and enjoy art. To this end, Sojourner Truth reached out to over 7,500 community youth in a recent year. We have participated through community festivals, organizations, churches, and after school programs. We have partnered with numerous schools from elementary to high school; with over 20 organizations, nongovernmental and government-sponsored; with local community centers and libraries; and with churches.
Just a few organizations are:
Fairytale Town, Martin Luther King Library, Yuba City Adult Disability Facility, National Council Negro Women, New Millennium Foster Care, CHAMPS, Birth and Beyond, U.C. Davis, M.A.P.S, 100 Black Men, Phoenix Park Community, Emmanuel Ministries, Luther Burbank High School, PS7 Middle School, South Sacramento Neighborhood Services.
Summer Programs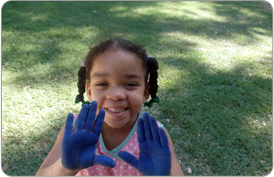 SOJO Camp 2009 has finished. SOJO Camp is a 6 week summer program of art instruction and free lunches for children ages 6-18. Youth enjoyed six weeks of creativity and imagination as they explored their inner artist while learning technique from experienced artists. They also spent time learning the role of art in various cultures throughout history.